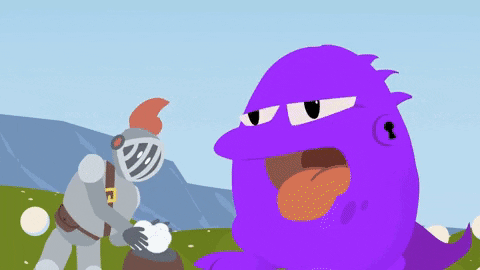 Spring has sprung for most of us and with it the beginning of the transformation from cold to warmer weather. We also seem to be a in a season of transition from fear of the unknown due to COVID-19 to one of greater trust and hope with the lifting of restrictions. A pep is back in our step as we make our way back to the public arena.
With it, came some exciting opportunities! Susie joined DFV friend and supporter, Elisabeth Rohm, on her weekly Instagram show Lunch with Lis. Susie also participated along with leading advocates for veterans and their families in The Respect Project's panel discussion on May 16th, also hosted by Elisabeth Rohm. (Stay tuned for that video soon; we will send it out for your viewing pleasure.) We also got some exciting news about our Adventure Castle animated short and one of our board members was published and lauded for their work!
We've definitely had some transformative moments this month. What has transformed your face into a smile in May?
Adventure Castle: Quarantine: Trapped in the Lab won four merit awards from the WRPN Women's International Film Festival! Our writer, voiceover actors, animators, and overall inspiring concept received nods, as well as the animated short itself!
Did you see the shoutout Healthline gave Kara and the (Not So) Dire Beastie in its recent article about comic books and graphic novels for type 1 diabetes? They included us with some great company, including a comic book from the U.K.! We and Beastie changed color with glee! Learn more here!
Over the past few months, you've been getting to know the team at DfV. This month, we're introducing board member Dr. Lisa Merlo Greene, PhD, MPE.
Dr. Merlo Greene is a licensed clinical psychologist with post-doctoral training in child/adolescent and pediatric psychology. She is a dedicated clinician, as well as an active researcher and educator.
She recently co-authored a paper about the stressors electronic health records can have on medical health professionals and her work has garnered attention from publications like Health Tech Magazine and Business Insider. You can read more about it here. (Congrats Dr. Merlo Greene and thank you for all you do for DfV!)
Susie joined an all-star lineup of panelists discussing how we can support the veteran community on Elisabeth Rohm's (Law & Order) The Respect project on May 16, 2021 at 1PM (PT)/4PM (ET). You can learn more about the conversation with Susie, Elisabeth, John Ondrasik (Five for Fighting, philanthropist), Debbie Lee (Author, CEO, America's Mighty Warriors), Jacob Schick (Motivational Speaker, former Marine), and Kimberlee Nicole Smith (Founder & CEO of the Tenacious Rose Project) by visiting https://www.therespectproject.org/talks.
Have you seen the new merchandise in our shop? It's perfect for Father's Day, a birthday, or any day you need to know you are not alone and you want to help support your favorite empowering organization, Drawn from Valor!
We hope, whatever this month brings you or has brought so far (Happy Mother's Day belatedly to those who celebrated!), it brings you some joy and transformative moments.
If you need help with that, as ever, our door is open. You are not alone.
Be well.
Ever Warmly,
Susie
P.S. If you need more than hope for joy, here are some great resources: